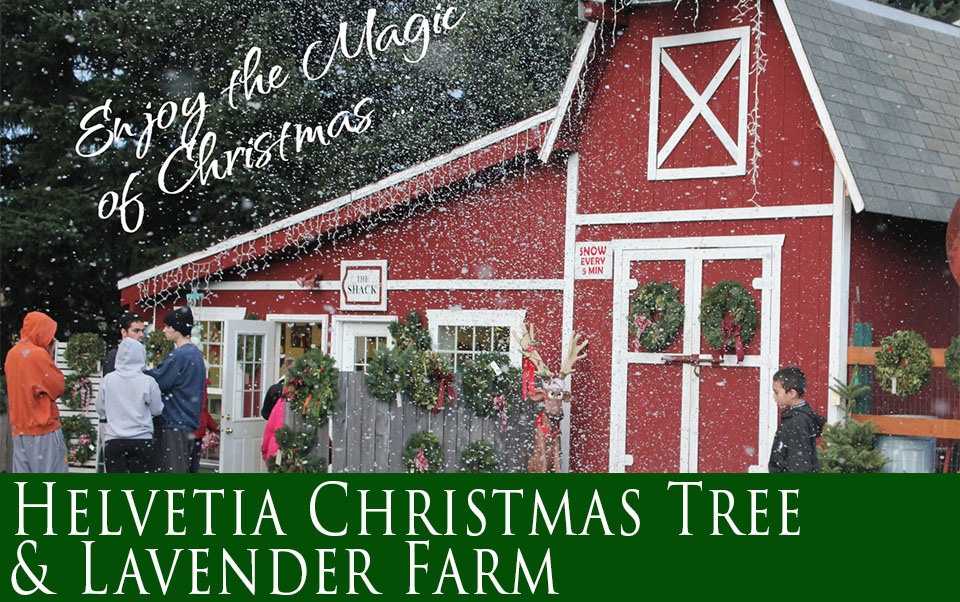 About Helvetia Christmas Tree & Lavender Farm
Helvetia Christmas Tee and Lavender Farm is a family owned business developed by the Miller family over the past 25 years. Our farm is a breath of fresh air and beauty filled with flowers, whimsical antique surprises, beautiful fields of lavender, and acres of Noble Fir trees.
The farm is also a wonderful stop on the 'Helvetia Lavender Festival ' Tour in July ( Friday-Sunday, July 7-9 form 10am-5pm.). Browse through gardens filled not only with lavender, but during the festival, we host local Northwest artists who set up an array of arts, crafts, jewelry and music.
During the Christmas season, our farm lights up with the spirit of the season, trees, decorations in the store, hot drinks and family fun while you create festive memories .
---
Fresh Local Produce Available

Christmas Trees - Cut limit reached- now closed for the 2018 season.


Lavender - Spring

Lavender Festival - July 6,7 & 8 from 9am - 4pm
Christmas Trees
Any tree (Noble, Nordman, and Grands): $52. We also offer fresh pre-cuts at the same price. All trees get a FREE SHAKE and BAIL.
Noble Fir
Nordman Fir
Grand Fir
Douglas Fir ($25 any size)
Wreaths are $25-$40
Gift Shop
Lavender
Bundle of Lavender is $7.00. Mature fields of Grosso, Super, Royal Velvet and a variety of English lavenders are available for cutting.
Lavender Festival is Open to the public starting Friday-Sunday, July 6-8th from 9am-4pm.
U-Cut Lavender Fields will be open June 22-23, June 29-30.
How to Buy:
Visit the farm during the open season (see website)
Contact Helvetia Lavender and Christmas Tree Farm via phone or email with questions.
---
Contact
Helvetia Christmas Tree Farm
503-334-0905
info@youcut.com

Helvetia Lavender Farm
971-228-0938
helvetiaproducts@gmail.com