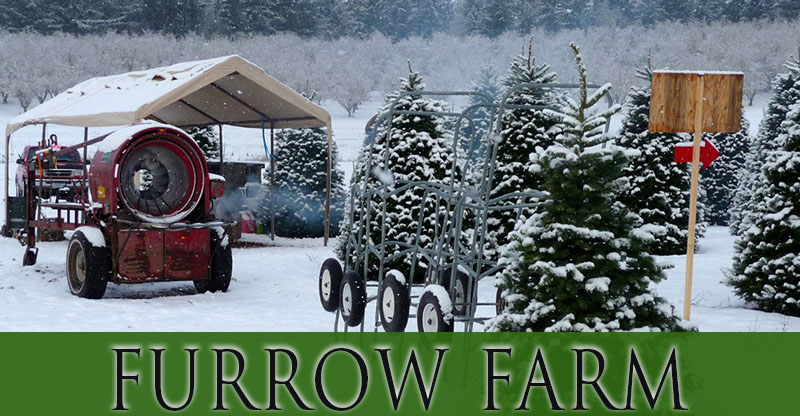 About Furrow Farm
We are a third generation farm growing and harvesting Christmas trees (both retail and wholesale) and hazelnuts. Our farm is also home to beef cattle, chickens, 4-H sheep, and horses. We are members of Hazelnut Growers of Oregon, we began by farming hazelnuts. As a teenagers, Matt began planting Christmas trees, and has harvested for over 25 years. It might surprise some to know that Christmas tree farming is a year round job, constantly fertilizing, planting, trimming, etc., all part of the process to grow the perfect tree. Our customers love the farm experience, they also love taking home a healthy, high quality tree. Come join in the festive season fun.
Produce Available:

Christmas Trees - Winter


Christmas Trees
Trees up to 15 feet tall. All varieties $6 per foot.
Noble Fir
Nordman Fir
Grand Fir
Balsam Fir
Douglas Fir ($20 any size)
How to Buy:
Visit the farm during the Christmas season, check website for details.
Contact Furrow Farm via phone or email with questions.
All payment types accepted.
---
Contact: Matt & Dana
Phone: 503-647-5288
Email: furrowfarm@gmail.com
Website link:
Furrow Farm
Facebook:
Furrow Farm